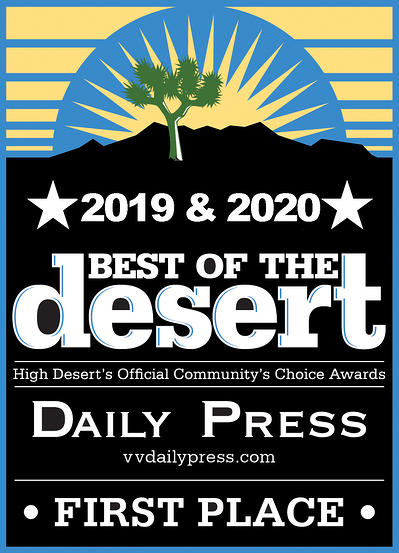 We are proud to congratulate Sierra Vista Independent & Assisted Living on being named Best of the Desert in 2020!
Sierra Vista Independent & Assisted Living is pleased to announce it has been selected as a 2020 Best of the Desert for superb care in the Assisted Living category from the Daily Press. Voted upon by the community of Victorville, Sierra Vista Independent & Assisted Living earned First Place.

"The greater Victorville area, the desert has voted and we are honored to have been awarded, for the second time in two years, the Best of the Desert recognition." Said Kimberly Mejia, Executive Director for Sierra Vista Independent & Assisted Living, a Pacifica Senior Living community. "This award celebrates and recognizes our contribution to quality Independent and Assisted Living care in the greater CA desert area" Mejia continued. "We are very pleased to be recognized as the best of the best."

Online reviews help Americans research and select the best senior living communities. Seniors and their families turn to the Internet and consumer reviews when narrowing their options among senior living communities in their area. They rely on these peer perspectives as much as personal recommendations from friends, geriatric professionals and medical personnel.
Some of the positive feedback that led to Sierra Vista Indepdendent & Assisted Living being voted Best of the Desert 2019, 2020 includes:
"The entire staff work tirelessly to care for the residents. I've personally witnessed the staff purchasing clothing, shoes and treats for the residents. It gives me joy to see such compassion bestowed upon our residents."


"Sierra Vista seemed really nice. From what I saw, and with talking to the director, I really liked it. It's a beautiful place. The rooms looked great. The staff members that I have met were great. It seemed like a really good place. I heard all good things about it from other people. I went in for a little tour, and it had a beautiful, big patio area. It's all green and just real pretty. Some of the rooms lead out to that and the rooms were decent-sized. I didn't get to really see inside because of COVID. They do the activities. My friend's brother knows somebody in there, and he really likes it there. They would've taken my mom, but I couldn't afford it because of the care that she needs. The person during the tour was super nice and easy to work with."


"This is a good place I have a small studio apartment here. I eat 3x a day and the meals are nutritious and well balanced. The caregivers are great and they do a lot for me they are wonderful. They come in and clean 1x a week and do my laundry every other day. The housekeeping is great and the halls are big and clean. I enjoy the daily activities like bingo and the exercise classes. And I love the daily word. I would recommend this community."